Very cheap price & Original product!
We Purchase And Download From Original Authors
You'll Receive Untouched And Unmodified Files
100% Clean Files & Free From Virus
Unlimited Domain Usage
Free New Version
Product Version: 6.3.5
Product Last Updated: 31.12.2020
License: GPL
Slider Revolution is THE cutting-edge WordPress plugin for today's sky-high web design demands. Packed with sleek features

Slider Revolution is still unknown to many people out there, and it is not surprising. So, don't feel left out if you also don't know what it is. Slider Revolution is a WordPress plugin that allows you to create beautiful sections on your website in an easy way. The attractive slideshow section you see on the websites is most probably made from Slider Revolution. Because it looks attractive, more users started putting slider sections on their websites, so it became a revolution in itself.
What is Slider Revolution in WordPress?
As with other content-creating sections and plugins you have in WordPress, Slider Revolution also is a content creation and display tool. You can easily get it from the official Slider Revolution website or in the WordPress plugin library. The plugin is known for its stunning animations and exciting visualizations. It has shown strong progress with time, which we will explore in this article.
What Makes Slider Revolution So Popular?
No Coding
It's a simple plug-n-play thing that doesn't require coding to install the plugin or use it. Create the animation and visualization of your choice using the simple drag and drop option. Even the templates are available with a one-click installation feature.
No Prior Design Experience
The plugin does offer you easy usage, but there's not much learning curve like there is in heavy designing software such as Adobe Photoshop or Aftereffects.
Addons
Although Slider Revolution is loaded with features, however, you can still expand its capabilities through Addons that allow new possibilities to your design. And, these Addons are available in all plans.
Evolution of Options
During the initial days, Slider Revolution was launched as a simple slideshow maker. With time, it has evolved into a complete designing solution to design a whole webpage from scratch.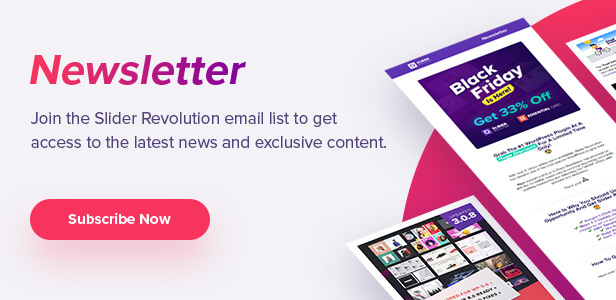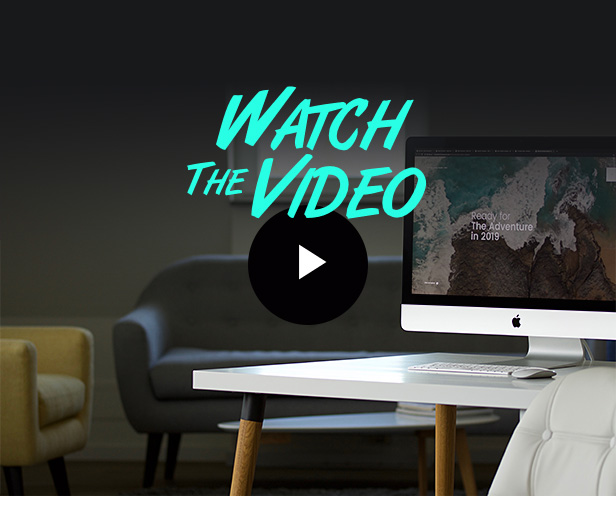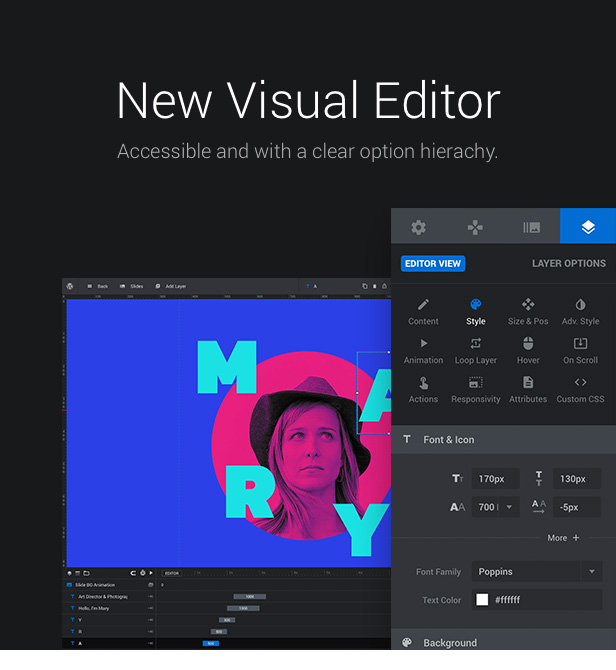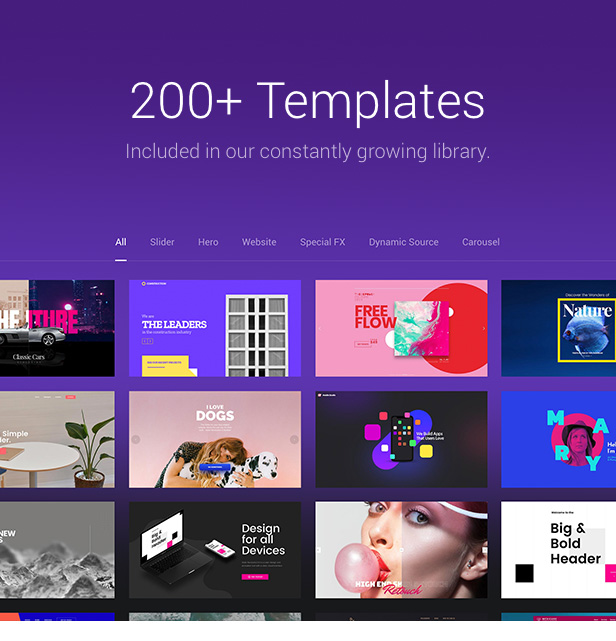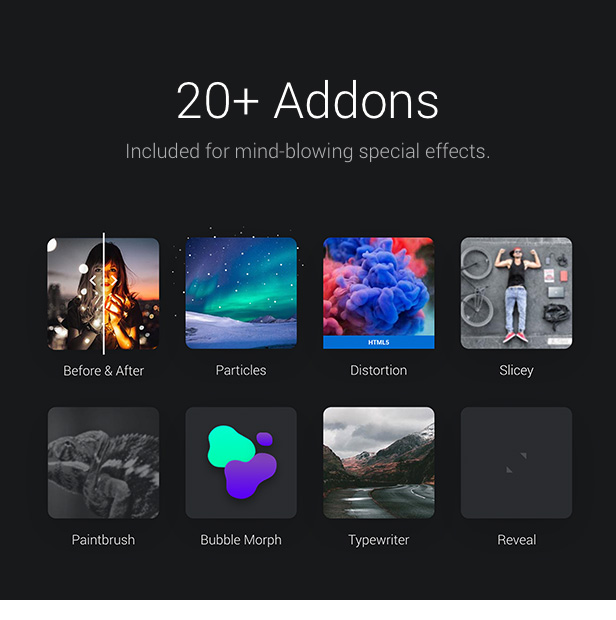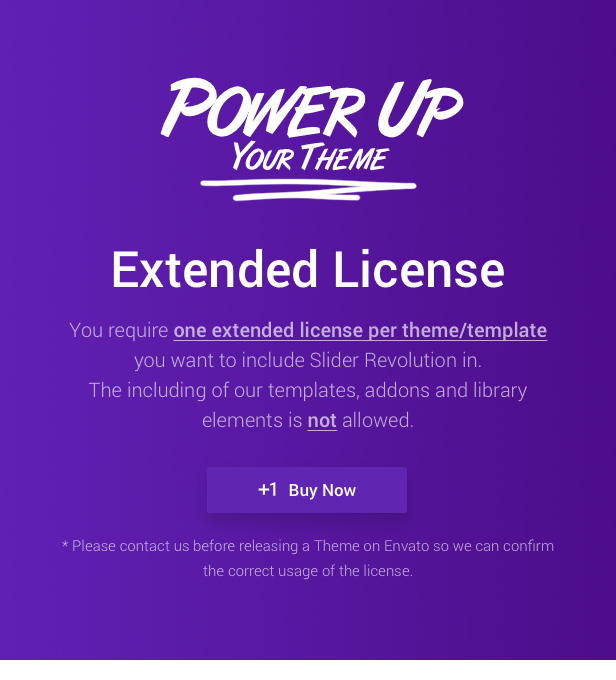 THE VISUAL EDITOR YOU WANT TO WORK WITH
Our goal is to deliver the ultimate experience to our loyal users. Version 6 of the Slider Revolution WordPress Builder has an optimized editor with all options categorized intuitively, so you can work faster.
Better usability
Work faster & more efficiently
Eye friendly dark user interface
Improved loading times
THE ANIMATORS DREAM. NOW WITH KEYFRAMES.
Instead of only allowing layer in/out animations, the Slider Revolution WordPress Builder has the ability to add multiple animation steps to each layer animation.
Easy to understand structure
In-depth animation settings
New easing types
Animation presets
MIGHTY NEW CONTENT. PURE INSPIRATION.
To fuel Slider Revolutions new UI and features, we prepared a large selection of high quality content for you to enhance your web projects immediately.
Many New templates
New images, videos, icons, etc.
Premade layer groups
Quickstyle layer presets
Add-Ons
LIVE HELP WITHIN THE EDITOR
Looking for a certain option and can't find it? Need a detailed explanation of an option? Welcome to our live directory inside the editor.
Explanation for any option
Search & highlight options
Documentation & FAQ
INSTANT SOLUTIONS AT YOUR FINGERTIPS
Our completely revamped support center is designed to deliver the solution you are looking for with maximum efficiency.
Comprehensive FAQ
Detailed & structured documentation
Growing video tutorial list
Constantly updated content
EASY, INSTANT UPDATES
One click of a button will update the Slider Revolution WordPress Builder to the latest available version, directly from our update servers.
The fastest way to update
Be the first to receive updates
System requirements analysis
Constantly updated content
200+ READY TO GO TEMPLATES
To get you started, we provide a large library of beautiful templates. Increase efficiency and project quality without coding knowledge.
The right template for every occasion
From simple headers to full websites
Special FX templates with add-ons
New templates added regularly
2000+ ELEMENTS OBJECT LIBRARY
Our library of royalty-free media assets offers something for every need. Just point, click and publish your new content.
Assorted background images
HTML5 Videos
Object PNGs
Font Icons & SVGs
Premade Layer Groups
20+ POWERFUL ADD-ONS INCLUDED
The Slider Revolution WordPress Builder includes a library of over 20 add-ons that add additional functionality to the core plugin.
Unparalleled possibilities
Special effects
Optional plugins
New add-ons added regularly